On Wednesday night, I got into a really bad accident on the freeway. I'm pretty sure I blacked out because I can't remember any details, but in short, my car got destroyed. It looks like this: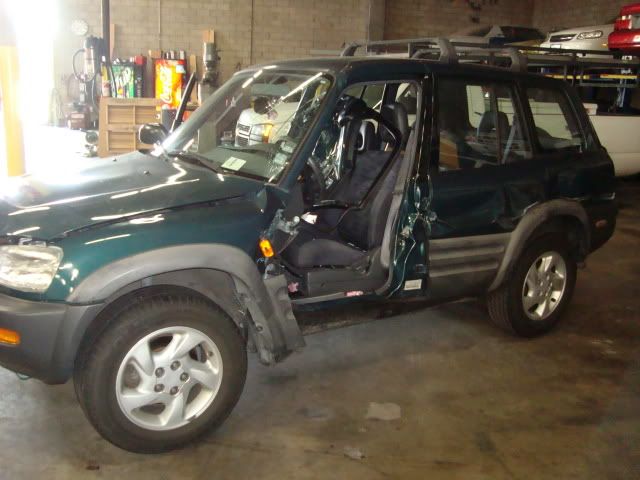 As you can see, there is no door there. They had to cut it off of the car to get me out. It looks like this:
Now, I knew things were not good when it happened, but I was more concerned with the fact that I was trapped in a car that was leaking gas and I had just felt a hole in my head (I've got some stitches), but seeing it today, I seriously wondered how I lived.
When it happened, I was taken to the ER as a trauma case despite the fact that my only injury was my head. It was there that I was told that had I been hit just a few inches back, things would have been a lot worse.
I guess you could say that this is the closest thing to a "near death experience" as I have ever had. Not in that I got close to death, but in the fact that it was only a few inches that saved me.
While I am in quite a bit of pain physically (my head hit the window pretty hard apparently, cutting it open and also causing some bruising, so anything involving the left side of my head kind of hurts, and I'm bruised on my left arm/shoulder and leg), the emotional toll is much worse.
I'm worried and afraid to drive now. I have driven, but I feel scared and I'm pretty jumpy about it. I'm worried that I'll get hit again and wont be as lucky this time. I'm worried that whatever car I get won't protect me the way my car did (I am really sad to lose that car, because I loved it. Ironically a couple weeks ago I was thinking about what car I would want when that one died, but I couldn't think of one, because I really loved my RAV4). I have been having trouble sleeping, partially because of physical discomfort, and partially because I keep thinking about it, trying to remember what happened, even though I can't. I keep remembering the fear I felt, and it's horrible.
This isn't an exciting or happy post, but just a sort of update. I probably will not be updating (at least not with fun pictures) for a few weeks since I am not in good shape. I'm hoping I will be alright soon.